San Cristobal de la Habana

*



Joseph Hergesheimer

(excerpt)

The Cuban shore was now so close, Havana so imminent, that I lost my story in a new interest. I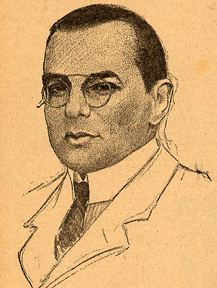 could see low against the water a line of white buildings, at that distance purely classic in implication. Then it was that I had my first premonition about the city toward which I was smoothly progressing – I was to find in it the classic spirit not of Greece but of a late period; it was the replica of those imagined cities painted and engraved in a wealth of marble cornices and set directly against the tranquil sea. There was already perceptible about it the air of unreality that marked the strand which saw the Embarkation for Cytherea.
Nothing could have made me happier than this realization; an extension of the impression of a haunting dream turned into solid fact. The buildings multiplied to the sight, bathed in a glamorous radiance; and, suddenly, on the other hand, rose Morro Castle. That structure, small and compact and remarkably like its numerous pictures, gave me a distinct feeling of disappointment. Its importance was historic rather than visible, and needed, for appreciation, a different mind from mine. But the narrowness of the harbor entrance, a deep thrust of blue extending crookedly into the land, the sense of crowded shipping and massed city, the steamers of the world and broad shaded avenues at my elbow, impressed me at once with Havana's unique personality.
Nothing, however, was more ingratiating than the long coraline limestone wall of the Cabañas on its sere abrupt hill at the left; ponderous and stained brilliantly pink by time, it formed a miraculous complement to the pseudo-classic whiteness below. A sea-wall built into a wide promenade followed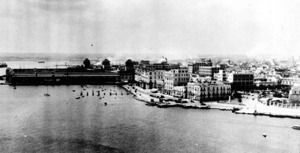 the shore, there was a circular pavilion on a flagged plaza piled with iron chairs, the docks were interspersed with small public gardens under royal palms, and everywhere the high windows had ornamental balconies empty in the morning sun. I heard, then, the voice of Havana, a remarkably active staccato voice, never, I was to learn, sinking to quiet, but changing at night into a diferent yet no less disturbing clamor.
What I tried to discover, rushed through broad avenues and streets hardly more than passageways, was the special characteristic of a city which had already possessed me. And, ignorant of the instantaneous process that formed the words, I told myself that it was a mid-Victorian Pompeii. This was a modification of my first impression, a
truer approximation, for it expressed the totality of marble facades inadmissible architecturally, yet together holding a surprising and pleasant y unity. No one, I thought excitedly, had ever rightly appreciated Havana; it required a very involved understanding, a feeling not entirely admirable. No, it wasn't Hellenic, not what might be called in the first manner; it hadn't the simplicity of great spirit, a true epoch; Havana was artificial, exotic: Spain touched everywhere by the tropics, the tropics – without a tradition – built into a semblance of the baroque.
It was rococo, and I liked it; an admission, I believe, laying me open to certain charges; for the rococo was universally damned; the Victorian period had been equally condemned… and I liked it. Why, God knew! Ornament without use, without reference to its surface and purpose, invited contempt. A woman in a hoop skirt was an absurdity; black walnut furniture carved and gilded beyond recognition, nonsense. Yet they had my warm attachment. Havana claimed me for its own – a city where I could sit at tables in the open and gaze at parterres of flowers and palms and statues and fountains, where, in the evening, a band played the light arias of La Belle Helene.


* * *

To illustrate further the perversity of my impulses: I was so entirely captivated by the Hotel Inglaterra that, for the rest of the day, I was indifferent to whatever might be waiting outside. The deep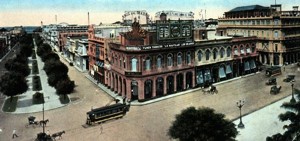 entrance with its reflected planes of subdued light and servants in cool linen; the patio with water, its white arches on iridescent tiles; the dining-room laid in marble, panelled with the arms of Pontius Pilate, the bronze lustre of the tiling and the long windows on the Parque exactly as I had anticipated, together created the happy effect of a bizarre domain. The corridor on which my room opened was still more entrancing, its arches filled with green latticework, and an octagonal space set with chairs and long-bladed plants.
Yet the room itself, perhaps one of the most remarkable rooms in the world, easily surpassed what, until then, I had seen. There were slatted door screens, cream-colored with a sapphire-blue
glass knob, topped in an elaborate Gothic scrolling; and the door beyond, inconceivably tall, opened on an interior that seemed to reach upward without any limit. It had, of course, a ceiling, heavily beamed in dark wood; and when, later, I speculated carefully on its height, I reached the conclusion that it was twenty-five feet above the grey-flowered tiling of the floor. The walls were bare, white; about their base was laid a line of green glazed tiles; and this, except for the glass above the French window, was the only positive note.
The window, too, towered with the dignity of an impressive entrance; there were two sets of shutters, the inner elaborately slatted; and over it was a semi-circular fanlight of intensely brilliant colors – carmine and orange and plum-purple, cobalt and yellow. It was extraordinarily vivid, like heaped gorgeous fruit: throughout the day it dominated the closed elusive interior; and not only from its place on high, for the sun, moving across that exposure, cast its exact replica on the floor, over the frigidity of the austere iron bed, down one wall and up another.
It was fascinating merely to sit and watch that chromatic splash, the violent color, shift with the afternoon, to surrender the mind to its suggestions.... They, as well, were singularly bright and illogical. Such glass, such colors, had been discarded from present decorative schemes; but I recalled hints of them in the houses of eighteen seventy; I seemed to remember them in pagoda-like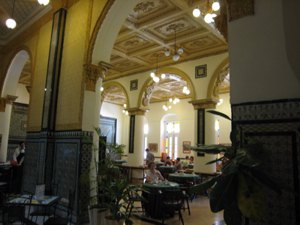 conservatories, and at once a memory of my childhood returned. Not that there were, actually, such windows at Woodnest, sombre under the tulip-poplars; yet the impression of one recreated the feeling of the other, it brought back disturbingly a vanished time with its figures long dead.
Havana was identified as an authentic part of my inheritance. I was – in a purely inner manner – to understand it, to have for it the affectionate recognition, the sense of familiarity, of which I have already spoken. The city was wholly expressed by the fanlight sparkling with the shifting radiance of the blazing day. It was possible, without leaving the room, to grasp the essential spirit of a place so largely unseen. Then it occurred to me that, indeed, I had seen Havana, and that the wisest thing to do was to leave at once, to go back with my strong feeling uncontaminated by trivial facts; but a more commonplace impulse, a limiting materialism, pointed out that, since I had come away for a change of scene, I had best realize a semblance of my intention. Still those colors, like a bouquet of translucent tulips, easily outweighed in importance all that I subsequently gained; they gave the emotional pitch, the intellectual note, of whatever followed – a mood, an entire existence, into which I walked with the turning of a sapphire-blue knob.
For the rest the furniture was scant – a walnut bureau with a long mirror, necessary chairs, and an adequate bathroom like a shaft with shining silver faucets at its bottom. From outside, even through the heat of noon, the sustained activity of sound floated up through the shutters – the incomplete blend-ing of harsh traffic alarms and blurred cries announcing newspapers.
It was later when I went out on my balcony: across the narrow depth of San Rafael Street the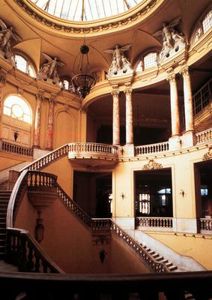 ornamented bulk of the Gallego Club – the Club and the opera house in one – opposed a corner against the sweep of the Parque Central; and to the right, between the glitter of shop windows, poured an unbroken procession of motors. A great pillar of the paseo below was hdhg with gaily covered magazines; a bootblack, wrinkled and active, with a single chair on a high stand, was cleaning a row of white shoes, obviously from the hotel; and the newsboys were calling La Politica Comica in a long-drawn minor inflection.
The sun, that I had seen rising on the undiscovered hills of Cuba, was sinking behind the apprehended city; it touched the caryatids of the Gallego Club and enveloped, in a diminished gold like a fine suffusion of precious dust, the circular avenue, the royal palms, the flambeau trees and Indian laurels, of the plaza. The whiteness of the buildings, practically unbroken, everywhere took on the tone of every moment: now they were faintly aureate, as though they had been lightly touched by a gilder's brush; the diffused shadows were violet. The shadows slowly thickened and merged; they seemed to swell upward from the streets, the Parque; and the buildings, in turn, became lavender, and then, again, a glimmering white. Only the lifted green of the palms was changeless, positive, until it was lost in darkness.
A great many people appeared below, moving with an air of determination on definite ways. The faces of the men were darkened by the contrast of their linen; I couldn't see their features; but what struck me at once was the fact that there were, practically, no women along the streets. It was a tide of men. This, at first, gave me an impression of monotony, of stupidity – women were an absolute essential to the variety of any spectacle; and here, except for an occasional family group hurrying to a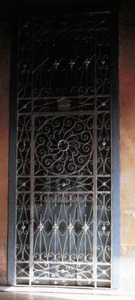 cafe, a rare stolid shape, they were utterly lacking.
The reason, however, quickly followed the observed truth; this was, in spirit, Spain, and Spain was saturated with Morocco, a land where women, even the poorest, were never publicly exhibited. Havana was a city of balconies, of barred windows, of houses impenetrable, blank, to the streets, but open on the garden rooms of patios. And suddenly – while the moment before I had been impatient at the bareness resulting from their absence – I was overwhelmingly conscious of the pervading influence of charming women. Here they were infinitely more appealing than in places where they were set out in the rows of a market, sometimes like flowers, but more often resembling turnips and squashes. Here, with extreme flattery, women were regarded as dangerous, as always desirable, and capable of folly.
It was a society where a camellia caught in the hair, a brilliant glance across a powdered cheek, lace drawn over a vivid mouth, were not for nothing. In the world from which I had come these gestures, beauties, existed; but they – were general, and meaningless, rather than special – the expression of a conventional vanity without warmth. There was an agreement that any one might look, the intensest gaze was invited, with the understanding that almost none should desire; and a cloak of hypocrisy had been the result; either that or the beauty was mechanical, the gesture furtive and hard.



*

Tomado de: Joseph Hergesheimer.

San Cristóbal de La Habana

. New York: Alfred A. Knopf, 1920. 13 – 23.